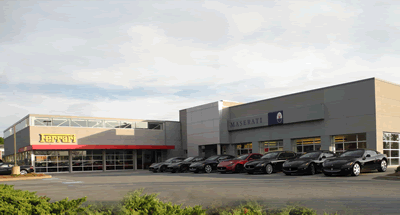 by Russ Heaps
At Ferrari Maserati of Atlanta, the parts have numbers; the customers have names. Neither retail nor wholesale customers get lost in the crowd; there is no crowd. It's Ferrari and Maserati after all.
In the world of auto parts, operating a parts department for an exotic brand, such as Ferrari, versus a volume brand like Toyota, is the difference between managing a boutique audio retail store versus Best Buy: There are more differences than similarities.
Simply the fact that Ferrari Maserati of Atlanta is one of only about 60 Maserati and 35 Ferrari authorized dealers in the United States makes it a member of a couple of very exclusive clubs.
When on a parts search for cars costing between $125,000 and $350,000, you probably hope the person on the other end of the phone knows what he is talking about. At this price point, you expect a high level of experience and expertise. And, you want a certain comfort level that only comes with hearing with a familiar voice.
Ferrari Maserati of Atlanta in Roswell covers all these bases and more.
Rather than months or years, the three-person parts team at Ferrari Maserati of Atlanta measures time on the job in decades.
When new owners purchased FAF Motorcars in Tucker, Georgia in 1994, they also acquired a parts department that included Harold Lovinger and Ken Erwin. In fact, Lovinger had more than 10 years with the company at that time.
Today, Lovinger is the parts manager and Erwin works with him on the wholesale desk, doubling as the store's Internet guru. The third member of the team is 12-year veteran Philip Cook, who primarily functions as the parts facilitator for the dealership's six-technician service department. In total, the team has logged more than seven decades of combined experience at this same store.
"There are only a handful of us that have been with Ferrari and Maserati as long as we have," Lovinger said, "for 20 years or more."
What this depth of experience means to customers is that not only are these guys walking, talking parts catalogs, they know where to go to find those hard-to-get parts for cars that are 15 or 20 years old.
"In the Ferrari-Maserati world, people have to be comfortable with you," Lovinger explained. "They have to know that we are all on the same page. We've been doing this so long, we know exactly where to find the parts. We have contacts in Italy, Great Britain, all over the world, actually. We can usually find a part that is rare or outdated. If it's out there, we'll locate it."
Because Ferrari and Maserati are as exclusive as they are, the dealership enjoys a huge market area. They are one of only 4 dealerships in the southeast United States. However, according to Lovinger, they are free to sell parts around the world from the Roswell location.
"We can go anywhere," Lovinger said, "and we ship all over the world. People who know me from 30 years ago and moved somewhere else, still call me or call Ken. Our commitment is to help anyone anytime. We've got every Ferrari parts book ever published. We even have younger guys from other dealerships' parts departments call us for help locating an older part number. We're happy to help."
Typically inventory on hand is about $350,000 with monthly parts sales averaging $200,000. This is all accomplished in 5,500 sq ft of space. Although the inventory on hand isn't huge, Lovinger said that both Ferrari and Maserati have the full range of parts in their North American distribution centers and can ship roughly 96% of his orders within 24 hours.
"For us it's about inventory management," Lovinger explained. "It's about keeping the right parts on our shelves. Maserati recognized us last year for doing just that."
When asked how the business has changed over the past 25 years, without hesitating, Lovinger replied, "the Internet. "
In the 70s and early 80s, the dealership's parts department was primarily a mail-order operation. As one of only five or six Ferrari dealerships in the country, it published catalogs, mailed them out and customers would mail or phone their orders in.
"We'd have some guy in Iowa, who would get the catalog, calls us with an order, and we'd ship the part," Lovinger said. "Now the Internet has changed the way we do business, as well as increasing competition. We are now just one of many sources for parts. It's made us work harder and smarter."
One way Lovinger is working smarter is by broadening his advertising. After years of advertising in just publications narrowly focused on Ferrari and Maserati owners, he has branched out, running ads in trade publications. "We didn't use to advertise much," he admitted. "Recently we started doing more advertising in places other than The Official Ferrari Magazine, and it has made a big difference."
Lovinger also gives credit to keeping pricing competitive. In a reality where the number of competitors increases almost daily, keeping a tight rein on prices is essential to growth. "We go out of our way to be competitive," he said.
Obviously Lovinger has had opportunities to take his expertise to bigger parts operations; yet, he has more than three decades with Ferrari Maserati of Atlanta. Why? He just seems to like it there.
"It's kind of like a family," he shared. "It's fun. The cars are interesting; and I deal with some influential customers. This is the top of the mountain. Any place else would be a step down."
Moreover, Lovinger loves the enthusiasm people have for the brands. He enjoys people who don't even own a Ferrari or Maserati who want to come into the parts department just to look around, and maybe buy a logo'd piece of merchandise.
"We really like it when people come in off the street," Lovinger said. "We sell a lot of merchandise. These people come in and tell us that they'll never be able to afford one of the cars, but they are fans. They'll buy a coffee mug, hat or jacket. We now have owners, who as kids, came in and maybe bought a model. They remember the experience and tell us about it. Today they are successful enough to own a car. It doesn't get much better than that."
Located at 11875 Alpharetta Highway in Roswell, the store's hours are 8 a.m. to 6 p.m. Monday through Friday, and 10 a.m. to 5 p.m. on Saturday. To reach Lovinger and his team by phone: 1-678-802-5000 or 1-800-522-2345.