Rick Hendrick Chevrolet at Gwinnett Place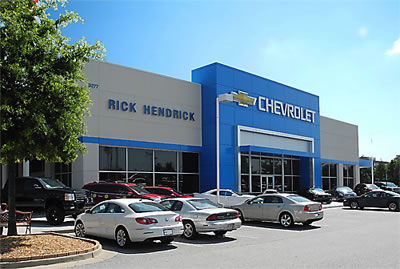 Toll Free
877-339-7278
Direct
678-957-5300
FAX
678-957-5310
Delivery Area:
Alabama
Georgia
North Florida
South Carolina
Tennessee

Website
Send an email to Wholesale Parts Dept.




Add to your Outlook address book
by Russ Heaps

In a matter of hours one sunny September day in 2008, the parts department of Rick Hendrick Chevrolet at Gwinnett Place changed in a very big way. It morphed from mild-mannered David Banner into the Incredible Hulk.
"We went from 12 to 32 employees overnight," explained Rusty Thigpen, the dealership's parts director. "There was not a lot of advance notice, maybe a few hours. And then within a week, we added 10 more."
Bringing about the abrupt transformation was the closing of Tom Jumper Chevrolet just north of downtown Atlanta with its extensive wholesale-parts operation. It was the perfect storm of a savvy Rick Hendrick Auto Group organization able to pivot on a dime, a team of highly talented parts experts thrown out on the street, and hundreds of wholesale-parts customers left searching for a new OE supplier.

Within hours of the announcement of Tom Jumper Chevrolet's closing, its wholesale parts manager Steve Sullens, who serves in the same capacity at Rick Hendrick Chevrolet and has 28 years of Chevy parts experience, and 20 of his people were part of Thigpen's team.
"I brought 20 people with me," Sullens said. "These were people who had long-term relationships with wholesale customers. The business was already there; we just needed the warehouse and facilities to get going."
At the time, the parts business at Rick Hendrick primarily serviced the dealership's own service department while also catering to walk-in retail customers. According to Thigpen, wholesale sales was only a small part of the $800,000 monthly sales volume for the parts department before the transformation. "We did some wholesale," he said, "but we were mainly a shop and retail organization."
Thigpen and Sullens scrambled to blend their teams as they worked to create a seamless transition for their wholesale customers. "We only had four or five days to get Steve's team on board," Thigpen emphasized.
Those who have expanded their staff by one or two people are aware of the logistical hurdles involved. Phone lines must be added; extra desks, chairs and supplies scrounged; and working space secured. Adding 20 additional people was a monumental task; however, the change also required colossal increases in inventory and support staff.

With the expansion, the parts inventory now hovers around $3.2 million -- about $2.8 million of that are collision-related parts.
"We had to find a warehouse, get more delivery trucks, establish the delivery routes, enter customers into the computer system, all within a very short time frame," Thigpen said. "It was an exciting time."
Finding a warehouse large enough to house the huge bump in inventory was critical. "We had less than 10,000 square feet in our warehouse and it was already full." Thigpen explained.

As the search continued for a bigger warehouse, parts began piling up in the dealership parking lot. Sections were taped off, establishing loading areas for the route drivers. "We were fortunate that we had two weeks of good weather," Thigpen said.
Since that September, the operation has smoothed out considerably. Everyone has his sea legs and the parts department is running like a finely tuned race car.
Today Thigpen's 48-member team operates from a 38,000 square-foot facility. With more than 350 years of combined parts experience, they are rooted at Rick Hendrick Chevrolet.

"We've had very little turnover," Thigpen stated. "Of the 20 people Steve originally brought with him, 17 are still here. Stability is really a key element of our success. In fact, Mr. Hendrick puts a lot of emphasis on stability."
Three outside sales people drum up new business and keep in touch with current wholesale customers in Georgia, Florida, Alabama, Tennessee and South Carolina. Ten route trucks make most of the Georgia deliveries. Trucks work routes 150 miles from the dealership at least twice a day, and much more frequently for customers in closer proximity.

Out-of-state orders are delivered by contract carriers. "Any out-of-state order we receive by 6 p.m. is delivered by noon the next day," Sullens asserted.
When asked if there was a key ingredient that contributed to the continued growth in business, Thigpen and Sullens both answered, service. Pointing to the 98% fill rate, Sullens said, "Service has a lot to do with our success. We are able to do what we do because of the years of experience of our staff and the short cycle time we provide the customer."

After nearly four years, the key challenge remains the same: Convincing customers that OE parts are better and less expensive in the long run than aftermarket parts. "This business used to just be about service," Sullens explained, "now it's service, price and quality."
Thigpen added, "It's a constant battle to get customers to understand OE parts are better. We have to do a good job making them aware of the differences. There is a quality difference and there is a fit difference. In the end, it's cheaper to use the OE part that fits than have a technician waste time trying to make an aftermarket part fit, or reordering the part if he can't."

Even if price alone is the determining factor, Sullens said in many cases they can meet or beat aftermarket pricing. "GM's 'Bump the Competition' program includes 4,000 parts numbers that we can actively price match," he said.
Finally, Thigpen and Sullens credit Charlotte-based Rick Hendrick Automotive Group, a nearly $5 billion business employing more than 7,000 people, with providing them the tools, support and encouragement to succeed.

"This is a great organization," Thigpen said. "It all starts with Mr. Hendrick who believes if you take care of the employees, they will take care of the customer. He has a winning attitude and that flows from the top down."
Located at 3277 Satellite Boulevard in Atlanta, Rick Hendrick Chevrolet's parts department is open from 7 a.m. to 6 p.m. Monday through Friday, and 8 a.m. to 5 p.m. on Saturday. You can reach them by phone at 800-240-0119.