Georgia Collision Industry Associations Question & Answer Session With Candidate Jim Beck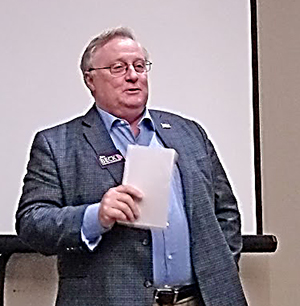 by Brian Medford
brian.s.medford@gmail.com
The mid-year meeting of the Georgia Collision Industry Association (GCIA) was recently held in Atlanta and attracted members from across the state. Gregg Goff (GCIA Secretary) headed up the meeting and ran through several topics affecting GCIA members this year. At the top of that list is a GCIA sponsored video to promote customer education. "We need to educate consumers, be an information provider. We aren't going to recommend shops, we are going to educate the consumers" said Goff. Shops such as K & M Collision in North Carolina are leveraging videos to help educate customers about the repair process, as well as insurance company tactics like steering. GCIA is working on topics for videos that can be used by GCIA member shops as education tools. One idea is these videos could be part of a rotation of content shown on a waiting room monitor. Suggestions for topics should be sent to gregg.goff@gcia.org.

The GCIA is continuing to work with state legislators for solutions to help shops across Georgia. One topic under research is a possible exploration committee to look at group insurance opportunities through pooling member shops.
The GCIA's 22nd Annual Invitational Golf Tournament is coming up on October 4th with all members encouraged to spread the word. This is the biggest fundraiser of the year for GCIA and they want to continue to make it a success.
With NACE Automechanika being held in Atlanta this year, there are lots of activities for GCIA members to take advantage of during the show. The Atlanta I-CAR Committee has partnered with NACE Automechanika to present the Rockin' Rides Car Show as well as a fundraiser reception to benefit local automotive schools. Being held in conjunction with NACE Automechanika is the Collision Industry Conference (CIC) which will give attendees two full days of collision industry educational opportunities.

The highlight of the meeting was a planned question & answer session with all of the candidates vying for the Georgia Insurance and Safety Fire Commissioner position. Voters in November will choose between Jim Beck (Republican), Janice Laws (Democrat), or Donnie Foster (Libertarian) as their representative in charge of the state's insurance industry, as well as fire safety across the state. While all three candidates were invited by Glenn Grey to the GCIA meeting (with all three confirming), only Jim Beck was in attendance.

Mr. Beck thanked the GCIA for the opportunity to address the meeting. He started out by saying "Insurance is buying a promise. They take your money but may never give you anything back. You don't have an instant concept of whether you got what you pay for. You have to have a balance, the body shop needs to make money, the insurance company needs to make money, and the consumer needs to have their promise fulfilled." Mr. Beck continued with his concerns about body shop "steering" that is happening in the insurance industry. "We need to find a couple of companies that are not treating people right and make an example of them publicly" he said.

GCIA members submitted questions for the candidates, with JIm Becks' responses as follows:

Q: In regards to OEM repair procedures, what is your position on OEM procedures being identified as the minimum standard of a proper repair" Should insurers be required to adhere to those standards? How will they be held accountable?
A: I want to appoint a body shop liaison that only deals with body shops and troubleshooting consumer complaints. We probably need to make it clear in the contract that the insurance company has to stand up for the work when the lawyers show up.
Q: Are you interested in regulating labor rates like some other states have done?
A: As a Republican I'm not for that. I'd be a hard sell.
Q: Are you aware of the insurance consumers experience through the current office?
A: It isn't great. Right now you have to fill out a form online. I want to create an intake unit to take data on the phone. Currently insurance investigators in the commissioners office are incentivized to close cases, not solve problems. I also want to create an advocate group with industry experts to advise on issues.
Q: The role of Georgia Insurance and Safety Fire Commissioner is broad, where does auto insurance fall?
A: Way down. I helped create the fraud fund to hire fraud investigators, but the fraud people use 54% of the insurance office budget (but they are only 5% of the employees). The insurance office is woefully underfunded.
Q: Practice makes perfect, but perfect practice is what makes perfect. Many shops are going through the motions and not doing repairs right. What will you do about repairs needing prevailing rate for specialty work (like aluminum repair) but the insurance company won't pay the correct rate?
A: I would survey the stakeholders to find the top priorities.
Q: If a claimant gets hit by a car and the adjuster questions the claimant, can they legally do that?
A: Some companies have gotten bad about interviewing claimants in order to make partial payments.
After Jim Beck spoke the attending GCIA members discussed the different issues they have faced with insurances commissioners in Georgia, including getting them to pay attention to the collision repair business.
State Farm refuses to pay for scans on 2018 Jeep Chrokee
Is Virtual Steering The Future Of Automotive Collision Claims?
Original Equipment (O.E.) collision parts and to highlight the benefits of choosing Mopar products over the aftermarket for collision repairs. The initiative will include a new informational ad that details the rights of owners to ask for O.E. parts for collision repairs.

Mitchell Parts to integrate advanced electronic procurement capabilities within Estimating and Repair Management to streamline workflow and business operations
CalAmp instant crash detection, analysis based on airbag modeling
The "Take a Good Look" campaign, launched this year and discussed in this "On Target" newsletter to wholesalers and collision repairers, is meant to stress the value of original equipment manufacturer parts to customers — over perhaps what an insurer wants.
Squeeze-Type Resistance Spot Welding How and Why - ViDEO