The Mississippi Collision Repair Association members have been asked to work with the Department of Justice, the Insurance Department, and the Attorney General to help consumers avoid the financial disaster of buying a vehicle that has been in a flood. Most of the recent Hurricane related flood vehicles have properly documented titles,however there are many running under the radar so to speak due to not being insurance claims or being bought and sold by those experienced at title washing. The department of justice will be prosecuting those committing criminal offenses to sell these vehicles to the unsuspecting public. Our role would be to offer free inspections to consumers before they buy the vehicle. There will be public service announcements telling consumers to go to a website for a list of shops willing to do this. I think it is a great opportunity for our members to be held out to the public as businesses who truly have their best interest at heart. We will move fast with this so we ask you to let us know if you are not willing to take part in this effort. This will be a great way to help your customer base and have potential customers driven to your business. Reply with your interest as soon as possible. Thanks for what each of you do for the association and for Mississippi.
Howard Batchelor GCIA Executive Director, colleague, and friend passed away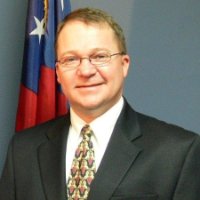 The GCIA Board is very sad to share with you that our long-term Executive Director, colleague, and friend, Howard Batchelor, passed away September 12. As many know, he had been battling an inoperable brain tumor, and now the battle is over and he is at eternal rest.
Howard was highly respected in our industry and a friend to all. He will be greatly missed and especially by the Georgia Collision Industry Association. Our deepest sympathies go out to his family and friends.
Obituary and arrangements for Howard Batchelor
Howard Ashley Batchelor, age 47, of Cumming, passed away Tuesday, September 12, 2017. Howard was born in High Wycombe, England and moved with his family to Roswell, Georgia when he was 6 years old. He graduated from Roswell High School in 1988. He started his working career at Photography by David and finished his career with FinishMaster, Inc. serving as a business development manager with territories in North Carolina and South Carolina. He also served as a long-term executive director of the Georgia Collision Industry Association. Howard was an avid sports fan and loved watching the Georgia Bulldogs, NFL and NASCAR. He enjoyed grilling outside and spending time with friends at Lake Lanier.
He was preceded in death by his father, Alan Batchelor. Survivors include his mother, Jean Batchelor of Roswell; sister and brother-in-law, Wendy and Jim Brock of Marietta; brother and sister-in-law, Russell Thomas and Maxine Silver of Lilburn; aunt and uncle, Joan and John Smith of Roswell; and several nieces and a nephew.
Memorial services will be held Wednesday, September 20 at 2:30 pm at Roswell United Methodist Church in the Chapel. Directions Google Map: https://goo.gl/maps/9fxz2dQkbcR2
State Farm Auto Insurance Forced John Eagle To Make Shoddy Repair That Trapped Driver in Burning Honda, Says Vehicle Safety Lawyer Todd Tracy
A federal lawsuit accuses State Farm Auto Insurance of forcing John Eagle Collision Center to cut costs by using a dangerous, untested adhesive to replace a hail damaged steel roof. The Complaint blames the defective car repair for crushing and burning the owners of a used 2010 Honda Fit when their car was struck in an accident.
John Eagle Collision Center & State Farm Auto Insurance Sued For Defective Car Repair Using Glue
"State Farm advertises that it is a 'good neighbor.' On the contrary: behind the closed doors of auto collision centers, State Farm's 'good neighbor' becomes a Dr. Jekyll and Mr. Hyde creature that turns into the 'neighbor from hell,'" according to the Federal Complaint filed by Matthew and Marcia Seebachan.
The lawsuit alleges that State Farm forced John Eagle Collision Center, "to use glue instead of welds and the shoddy and substandard repair work turned Matthew and Marcia Seebachan's Honda into a bonfire."
"State Farm secretly and covertly plays Russian Roulette with its customers and the public by forcing body shops to choose their profits over the safety of the motoring public," said Dallas vehicle safety lawyer Todd Tracy who represents the Seebachans.
During a family Christmas visit in 2013, Matthew and Marcia Seebachan suffered serious injuries when the safety cage of their 2010 Honda Fit collapsed because their roof literally separated where it had been glued with 3M 8115 adhesive rather than being welded at 104 spots as specified by Honda.
The failure of the glued roof set off a domino effect that crushed the couple and set their car on fire. Matthew Seebachan was trapped behind the steering wheel of the burning vehicle, and was conscious while his body burned.
The hail damaged body work was not disclosed to the Seebachans when they purchased the used Honda four months before the accident occurred.
The Body Shop Director for John Eagle Collision Center admitted, under oath, on July 7, 2017, that John Eagle deliberately violated Honda's 2009-2013 Honda Fit Body Repair Manual when it glued the new steel roof on to the 2010 Honda Fit with 3M 8115 adhesive. Honda's official repair manual for dealers specifies that a new roof must be welded onto a 2009-2013 Honda Fit when the roof is replaced. John Eagle's corporate representative further testified that the 3M 8115 adhesive used to glue the new roof on was used despite the fact that 3M has specifically stated that Honda does not permit the use of adhesives.
According to his testimony the collision center's profits trump safety, "State Farm dictated to John Eagle how the car was to be repaired, i.e., to use adhesive rather than spot welding. Furthermore, State Farm can 'trump' the Original Equipment Manufacturer (OEM) (Honda) specifications because the repair facility needs to get paid."
Tracy stressed that, "State Farm sells auto insurance. They are not in the business of designing vehicles, or testing vehicles, or repairing vehicles. And their adjusters are certainly not professional automotive engineers with an expertise in designing vehicles that provide crashworthiness protection to prevent serious injuries. No insurance company should ever dictate to a collision center how to repair a vehicle. Such coercion jeopardizes public safety on the nation's highways."
Yet, Repairer Driven News for the Society of Collision Repair Specialists reported that representatives of State Farm and Allstate at the Collision Industry Conference and NACE MSO Symposium for collision repair industry executives failed to support the idea that Original Equipment Manufacturer (OEM) instructions are always the standard of care — a position endorsed by all major collision repair trade groups, I-CAR, and even CIC's own definition of a collision repairer.
According to the report, Clint Marlow, director at Allstate stated: "I think there's a lot of … mechanical acumen in our industry, and while most of us are not mechanical engineers by trade, I believe that we are educated enough to form an opinion." Asked about OEM repair procedures, State Farm claims director Russ Hoffbauer said, "We don't consider them Gospel."
"State Farm Insurance needs to find some old time religion when it comes to protecting the safety of its flock, i.e., policyholders and motorists. Ethical safety minded collision centers clearly believe that the OEM is the industry Bible. The arrogant attitude of this insurance giant who pretends to be everybody's 'good neighbor' reveals its two faced Dr. Jekyll and Mr. Hyde mentality when it comes to putting profits before safety. How many of their customers are driving defectively repaired cars that are ticking time bombs set to explode in an accident?" asked Tracy.
The federal lawsuit also accuses State Farm of violating the Texas Deceptive Trade Practices Act (DTPA).
GM TO LAUNCH COLLISION CERTIFICATION PROGRAM IN EARLY 2018
CHICAGO – General Motors' Customer Care and Aftersales division announced at NACE automechanika Chicago, the largest U.S. trade show dedicated to high-end technical and management-related training for automotive collision and service repair shops, it will launch a comprehensive collision certification program in 2018.
"Today's certification programs have to evolve to keep up with the rapid-fire pace of technological innovation in the auto industry, especially in areas like safety systems," said John Eck, collision manager, GM Customer Care and Aftersales. "Our new program is being designed to measure critical behaviors and procedures that will help ensure every collision repair is done to the highest standards, whether the work is done at a dealership, an independent body shop or by a multi-shop operator."
The new GM collision certification program will build on current training- and tools-focused programs, but it is much more comprehensive, adding standards for pre- and post-repair scanning, calibration, and overall repair. In the development of the certification program, GM Customer Care and Aftersales is working closely with companies like Mitchell International and Enterprise Holdings, who share common goals of ensuring proper and quality repairs are taking place.
Last year, GM issued a position statement that all vehicles being assessed for collision damage repairs must be tested for Diagnostic Trouble Codes (DTCs) during the repair estimation. Additionally, the vehicle must be retested after all repairs are complete in order to verify the faults have been repaired and new faults have not been introduced during the course of repairs.
GM is also looking at ways to incorporate technologies like OnStar into the process, such as providing drivers with information on qualified collision repair facilities based on vehicle location and crash severity.
"With Automatic Crash Response, OnStar is typically the first to know an incident has occurred," said Brian Hoglund, OnStar Commercial Experience director for GM. "Depending on the vehicle's repair needs and driver's well-being, OnStar has the ability to help streamline the repair process while making the experience more convenient for our customers."
All of GM's position statements can be downloaded at http://www.genuinegmparts.com/for-professionals/position-statements.
Is Virtual Steering The Future Of Automotive Collision Claims?
Original Equipment (O.E.) collision parts and to highlight the benefits of choosing Mopar products over the aftermarket for collision repairs. The initiative will include a new informational ad that details the rights of owners to ask for O.E. parts for collision repairs.