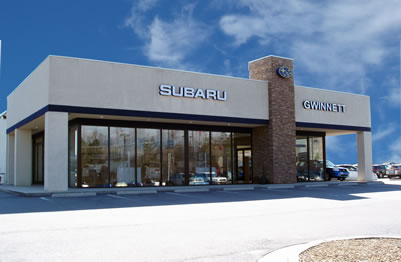 By Dennis C. Martin
Women have always been the more nurturing sex, and when it comes to communicating and organizing, no one does it better. Lisa Wilkins, Parts Manager at Subaru of Gwinnett, is one of those caring, nurturing females, and she has personality and attitude to go with it. She is always ready to go beyond the pale to provide quality service to her customers. "We have two women that run the show here," says Lisa about her parts department. "My assistant, Sumar Smith, and I, truly care about our customer's needs. Our wholesale parts sales have taken off because we do what we must to make it happen."
Lisa's 17 years of parts experience dates back to 1989 when she worked at Chrysler/Subaru Dealership. She started as a driver and then went inside as a parts stocker and puller. She worked her way to the technician counter and eventually into wholesale parts sales where she prospered When Gwinnett Subaru was opening, she was offered the position as parts manager, and she was thrilled to come to work for the first stand-alone Subaru dealership. "Our owner here at Gwinnett Subaru is a joy to work for," states Lisa. "He is very approachable and he gives you the tools you need to succeed."
When it comes to manufacturer's support, Lisa finds that the fine people at Subaru are very approachable too. "Subaru is a relatively small company," she notes, "and as we are a stand-alone company, I can talk to those at all levels of the organization." Because of this ease of communication, there is very little back order and she receives full company support. "Subaru has programs to help us succeed," she explains. "Our Subaru supervisors have creative ideas and are very active." One of those ideas was the Subaru challenge, which is a driver's course challenge. "This interaction between the manufacturer and the dealership makes us a very tight-knit group," says Lisa.
Lisa's parts department is a tight-knit group also. She praises the work of her assistant, Sumar Smith. "Sumar has come here and she has learned quickly," says Lisa. "She has a lovely and upbeat personality. She's great at wholesale parts sales because of her people skills, which translate well with the customers." Lisa also speaks highly of her parts delivery man, Nathan Weaber. "Nathan knows the area well, and he knows how to load the truck in the progression of delivery." Lisa knows that if need be, Nathan can help with the technicians, answer the phone, work the counter and can do wholesale parts sales. "Nathan is godsend," says Lisa. "He's a laid-back guy and the customers just love him."
While her main market area is from Columbus, Georgia, to the northern area of the state, Lisa admits that her eye is on the expansion of her service umbrella. "We already ship to South Carolina and Tennessee," she notes, "but I would like to open up North Carolina and Alabama and still be strong in our core area and the I-85 corridor."
Lisa feels that her biggest challenge ahead is making this growth happen. "I want it to be faster," she says. "We're at the point now where if we can get busier, we can add another driver and perhaps another counter person." Her goal is for her parts department to be number one in the South Central region of Subaru wholesale parts sales. "We've only been doing wholesale parts sales for two years now," Lisa explains, "and at present we're already number seven in the region with our goal to be number one among 116 Subaru dealers."
Lisa Wilkins would like to stress to the body shop and mechanical shop owners that the soul purpose of her parts department is to supply the best customer service possible. "We do care that they get their parts quickly," she remarks, "and we'll do what it takes to get their business." She also boldly predicts: "Once they start doing business with us they won't bother going anywhere else." Remember that personality and attitude thing that I mentioned at the beginning of this article. Well, if you are a shop owner in need of genuine Subaru parts, you might want to take Lisa up on her offer. You will be glad you made the call.n
Dennis Martin is a freelance writer whose writing credits include feature articles and short stories published in national and regional publications.