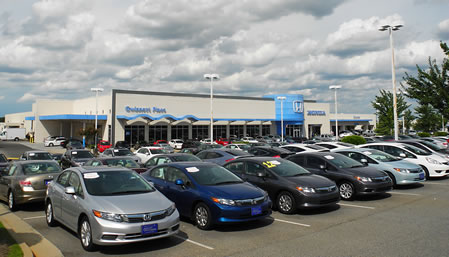 by Russ Heaps

"Go big or go home" may be a sports cliché, but it's the mindset shared by the staff at Duluth, Georgia's Gwinnett Place Honda. In parts, as in every other department at this highly successful Honda store, winning isn't just a goal, it's a state of mind.

When you are in a competitive business, it helps to be competitive. And such competitiveness is even more essential when you work within a culture, such as the Charlotte, NC-based Hendrick Automotive Group, where anything less than winning simply isn't good enough.
This number-one-or-else mindset has a home at Gwinnett Place Honda. Ranked as the largest vehicle sales-volume dealership in Georgia, it also lays claim to having one of the top-five service departments in the country. In parts, its sales put it among the top-three Honda stores in the nation.
It's a good thing P.J. Maher has a competitive spirit because that is exactly where he found himself more than nine years ago when he took a leap of faith, leaving his employer in Florida of 14 years, to take a pay cut and a new job at Gwinnett Place Honda.

"My family is everything," Maher said, "and South Florida just isn't where I wanted to raise my daughters. We had friends in north Georgia who had been encouraging us to move up. I blanketed Atlanta dealerships with my resume and eventually heard from one of them. They didn't have an opening, but told me Gwinnett Place Honda was looking for someone. I called and after a phone interview, they asked if I could come in for a face-to-face interview. After thinking it over and talking with my wife, I realized if I was going to make the move, I had to make it happen. I found the cheapest flight I could on a Friday morning, took the day off work, flew to Atlanta and spent the day interviewing."

As it turned out, the investment in the plane ticket and the lost day's work were well worth it; Maher returned home that evening with a job offer in his pocket. After 14 years of working his way up from doing small repairs in Hollywood Honda's body shop, to customer service and various positions in the parts department, he moved his family to Georgia, joined the Rick Hendrick family and never looked back.
When Maher arrived, his body-shop experience was put to good use. "The body shop wasn't doing as well as they wanted," he explained. "That was the first place they put me. Mike Brooks and I made some changes and weeded out a few vendors. It took some time, but we got it on track."
He moved into the parts department where John Hicks, the parts manager, named him assistant manager last July. "One of the best things that has happened to me in my career is working under John Hicks," Maher said. "He is a brilliant parts manager. He's really been my mentor."
Something must have rubbed off because when Hicks became the dealership's fixed operations manager last winter, Maher was the first choice to fill the parts-manager position. "I've been in this job since February and loving every minute of it," he said.

Promoting from within is a staple of the Hendrick system that includes 10,000 employees working in 95 dealerships with 133 franchises in 13 states. It's the largest privately held dealership group in the country. In 2014, it sold a total of more than 184,000 vehicles, resulting in roughly $7.5 billion in revenue.

According to Maher, because of the way this organization grooms, promotes and takes care of its people, they just tend to stay. "Basically the same crew has been here for years," he stated. "We've increased the staff, adding some, but everybody else has been here for years. We've easily got more than 300 years of cumulative parts experience in this department and most of those years are Honda-based parts experience."
Maher oversees a 17,000 square-foot warehouse holding more than 1.1 million parts at any given time, which helps explain the better-than-97% fill rate. Average monthly sales are approaching $2 million. Of the 31 people he manages, 20 drive the trucks, striking out across the Southeast every day on deliveries. With a distribution area comprising primarily Georgia, Alabama, Tennessee, Florida and South Carolina, some parts are shipped through Hayes, Diligent and Advantage.

Part of the success is, so many of Maher's team members are cross trained to pick up the slack if someone is out or just needs some support. Although his three key wholesale staff have already racked up nearly $5 million in sales through the month of October, anyone on the parts counter has the experience to handle a wholesale call and they do so when needed.

Although stepping into a manager's position for a well-oiled, highly successful operation like Gwinnett Place Honda's parts department may sound like a cake walk, Maher admits there is a certain amount of stress involved in maintaining the sales numbers and quality of service. When asked what sort of goal he could possibly set for himself when things are running so smoothly, he was quick to reply, "My main goal is to just keep growing it. And, in doing that, I want to keep the people here growing as well. I want them to move up. I was handed the keys to this place. It's a lot of responsibility. When you walk into a bad situation, there is only one direction to go and that's up. But when you come into a well-run, highly successful operation, the pressure is not to let anyone down."
And that's where that competitive spirit comes in. Maher coaches each of his daughters' softball teams. He wants every member of each team to have fun, but the goal is still to win. "I don't believe in participation or consolation trophies," he emphasized. "You get a trophy when you earn one. It's the same at work. I believe in winning and I like working hard to get there. I like being No. 1; we like being No.1. Sure we stumble once in a while, but we keep going. I want to keep it going."n