Headlines
Ohio Repairer Three-C Body Shops Pursues Multiple Lawsuits Against State Farm for Short-Pays.
Three-C Body Shops is seeking recovery of short-pays, fees and court costs from State Farm Insurance for the insurer's repeated underpayments for services generally rendered and charged to their customers when their vehicles have been deemed to be total losses.
Currently there are approximately 89 active lawsuits between Three-C's and State Farm which began in November, 2012. Generally the suits stem from total-loss billings whereas Three-C Body Shop is seeking an estimated $296,807.93, of which State Farm has agreed to pay only $31,565.03, leaving an unpaid and contested amount to date of $265,242.90. Similar lawsuits will likely be filed.
Bob Juniper, second generation owner and President of the 58 year-old family owned company is no stranger to controversy or to taking on the challenges the collision industry presents. He was one of the first shop owners in the nation to 'put his money where his mouth is' by his hard-charging and often controversial local television and radio consumer awareness ads and commercials regarding Direct Repair Programs (DRPs).
Bob Juniper stated; "When a vehicle becomes a total loss we cease normal repair related activities and change to another mode of operation, and as such, charges for such activities are assessed that may or may not be consistent with a repair. Such charges may be processes including but not limited to clean-up from fluid leaks, relocating a disabled vehicle, storage, protection, research, documentation, administrative activities, parts handling and others. We have closely studied the high cost of handling and processing total loss vehicles. In the Columbus area insurers understand and pay for such charges, all but one that is. State Farm continues to be 'the odd-man-out' in settling such claims fairly.
We must be paid for our efforts and liabilities associated with the handling involved in total losses as such activities are not "the cost of doing business". We have decided to let the courts decide who is right and who is wrong. Our efforts to work things out with State Farm directly were unsuccessful. I believe the facts will show that the money is owed. We look forward to sharing the results of these cases with the collision repair industry."
Todd A. Fichtenberg, one of Three-C's attorneys of the law firm Skinner & Associates, LLC of Columbus, Ohio stated: "Ohio lacks the statutory provisions that have made those like Ray Gunder in Florida so successful in the recovery of fees and costs. Without that statutory framework, we are using Ohio's existing laws and good faith arguments for the extension of those laws in an effort to recover Three-C's fees and costs".
Three-C Body shops was founded in 1956 and currently has six (6) locations including two satellite locations (inspection-estimating, drop-off and delivery) which help feed their four (4) repair production locations in and around the Columbus market area. The company does $10 million-plus in annual sales. More information on Three-C Body Shop may be found at their website at www.threecbodyshop.com or one can reach Bob Juniper at 614-403-1408.
Collision repair facilities can expect increased levels of inspections by the Occupational Safety and Health Administration (OSHA) to continue in 2014. OSHA issued its annual inspection plan under the Site-Specific Targeting 2014 program as well as its current list of National Emphasis Programs to direct enforcement resources to workplaces where the highest rates of injuries and illnesses occur.
See OSHA Announcement at link below: https://www.osha.gov/pls/oshaweb/owadisp.show_document?p_table=NEWS_RELEASES&p_id=24273
Following are some recommendations to be prepared for an inspection:

Supplied Air Systems are the most effective respiratory protection for reduction of Isocyanate exposure. Next effective are the PAPR (Purifying Air). If the painters have access to the supplied or fresh air systems, they should always use that option while in the booth.

The Dual Cartridge / Half-Mask respirators are the least effective means of protection against Isocyanates. If these are the respirators in use, the documentation should reflect accurate change out schedules.
All Respiratory Protection Program documentation should be in order (Fit Tests, Medical Evaluations, etc.)

Housekeeping is crucial as the Inspector could possibly swipe test areas of the shop.

Improve ventilation in the Mixing Rooms by keeping the pickup vents clear as possible. If ventilation is questionable, have the painters wear respirators while mixing.

PPE is important (eyes and skin as well as respiratory). Painters should be fully covered and some Prep Area Employees should be wearing gloves and eye protection as well.

Paint Suits should be changed once a breech (tear or paint in the suit) has occurred.

Isolate the Painters - do not wear paint suits, etc. in the break area and keep food out of the area as well. No drinks in Prep or Paint. I would even recommend keeping food and drink out of the entire Body Shop and only in break rooms. Also, only those employees who need to be in Prep/Paint should be in the area.

Documentation available for all booths (closed systems) - maintenance records, filter change outs, etc.

Paint and other chemicals should be kept closed at all times when not in use.

Reminder that paint may not be the only chemical which contains Isocyanates in the Collision Center.

Please contact Howard Batchelor at GCIA if your shop is inspected.
Florida Shops Rally to Stop Parts Trader and Recover Short-Pays
Ray Gunder of Gunder's Auto Center in Lakeland introduced John Mosley, of Clinton Body Shop, Inc. of Clinton Mississippi, who, along with several other Mississippi Shop Owners and Plaintiff Attorney John Eaves, flew into Lakeland, whereas with local Florida Attorney Brent Geohagan held a meeting to share their national efforts to stop implementation of PartsTrader and State Farm's attempts to impose it upon an unwilling collision repair industry and their suppliers who were also in attendance.READ MORE
Federal District Court in"Steering" Lawsuits Filed Against Progressive Insurance

Federal judge denies Progressive Insurance's Motion to Dismiss Price's Collision Center's "Tortious Interference With Business Relationship" and "Breach of Contract" claims, which challenge improper insurance company steering and underpayment of claims.READ MORE
Oregon Repairer Chooses Not to Re-Negotiate State Farm's Select Service Agreement.
Beaverton, OR, : During a meeting with the area State Farm Estimatics Manager, Ron Reichen, President of Precision Body and Paint in Beaverton Oregon, chose not to re-negotiate his company's Select Service agreement with State Farm Insurance, the nation''s largest personal auto insurer. A relationship which lasted over 17 years and of which accounted for $2 million dollars in business over the past year.
"It was actually a business decision we had been considering for some time" stated Reichen;"Discussions came to an impasse over fair and reasonable rates and allowances for aluminum repair. Our terminating the Select Service agreement stems from our company being a certified Tesla repair facility and the investments in time, equipment, training, specialized equipment and facilities which we could not offer for the rates State Farm was willing to pay. This will no doubt enable our company to re-evaluate and revise our pricing on other goods and services for the other manufacturers of which we are a certified repairer for including Porsche, Audi, Volkswagen, Nissan, Volvo, GM, Chrysler and several others." READ MORE
Arizona Vendors Not Impressed With Parts Trader

Over 130 people attended an Automotive Service Association of Arizona (ASA AZ) meeting on the evening of August 13th that featured Dale Sailer from Parts Trader and George Avery, national spokesperson from State Farm Insurance. Mike Anderson of Collision Advice facilitated the meeting in which questions were answered following presentations by Mr. Sailer and Mr Avery. Among those in attendance were two state legislators curious about the program and the impact on constituents. READ MORE


Mississippi Collision Shops Seek to Block PartsTrader in Court Can Mississippi body shops and an industry association stop PartsTrader before it even arrives there? Will other states follow?

By Nick Palermo
Collision shops and industry associations nationwide have voiced concerns over PartsTrader as the electronic parts ordering system has been implemented in initial markets. The Mississippi Collision Repair Association (MCRA) and more than two dozen shops in that state are acting in advance of its arrival there by filing an injunction to block a requirement to use PartsTrader.
The lawsuit was filed late last month in Hinds County Chancery Court against State Farm Mutual Automobile Insurance Company and PartsTrader LLC. According to plaintiff John Mosely of Clinton Body Shop in Clinton, Mississippi, the suit argues that a requirement to use PartsTrader represents tortious interference in a collision shop's relationships with its customers. Tortious interference occurs when one party intentionally causes a second party to not do business with a third party.
Mosely also said that, if the lawsuit is successful, he hopes collision shops and industry associations in other states will follow Mississippi's lead.
Shops in other states are indeed watching closely. Reactions to PartsTrader have not been overwhelmingly positive as collision industry professionals voice concerns over control of their businesses, specifically how they deal with customers and suppliers. Reporting by Southern Automotive Journal on Georgia Collision Industry Association (GCIA) members' outlook on the program reflects skepticism at best.
In a presentation earlier this year, Dave Sailer, a representative from PartsTrader, pitched the system as a competitive new marketplace that would improve efficiency in the industry to the benefit of all parties. George Avery of State Farm said the same late last year, citing an opportunity to repair vehicles that would otherwise be totaled and provide quicker turnaround, improving bottom lines. Of course, even Avery recognizes that State Farm has perhaps the most to gain from such efficiencies. Reducing repair times by one day – across all State Farm claims – would save the insurer $43 million annually in rentals.
At that time, Avery stopped short of telling GCIA members that they would be required to use PartsTrader if they wanted to do business with State Farm customers. But Mosely told Body Shop Business that Avery expressed an impending ultimatum to MCRA members.
"George Avery announced to us that there will come a time in the near future where someone will sit across from your desk and describe this program to you, and you will make a decision as to whether this program is good for your business or not," Mosely said."And for those of you who choose not to follow the program, you will quickly become irrelevant to State Farm."
Mosely also explained the plaintiffs' position on such a black-and-white choice.
"The only way we cannot do business with State Farm is to not have those customers in our shops, and we have no intention of losing any customer that each of us have built our business to serve," Mosely said."We intend to fight to keep our right to free enterprise."
Statements from other collision industry leaders in the wake of the lawsuit's announcement support the action my MCRA and the Mississippi body shops. Charles Bryant, executive director of the Alliance of Automotive Service Providers of New Jersey this week expressed solidarity with the Mississippi efforts.
"The collision industry has clearly rejected the concept of PartsTrader, yet State Farm is taking the position that they are going to force PartsTrader on the collision industry – like it or not," Bryant said."This lawsuit should be a wake-up call for State Farm. State Farm's attempt to create the appearance that they are trying to help the collision industry solve a problem has clearly failed."
It may be clear that State Farm has failed in convincing collision repair professionals that PartsTrader will improve their businesses, but that hasn't stopped the insurer from successfully rolling out the program. In addition to four metropolitan markets - Chicago Grand Rapids, Charlotte and Birmingham- PartsTrader is live in four full states: Colorado, Arizona, New Mexico and Texas. Ten more full-state implementations are"pending," according to PartsTrader as of August 19.
Mississippi is not among them, but collision shops and industry associations across the U.S. will surely continue to follow the lawsuit against PartsTrader in that state closely.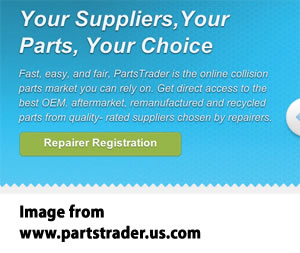 Gene Hamilton Honored at GCIA Golf Tournament
Gene Hamilton is one of the most respected and recognized people in the collision repair industry today. This is not only because of his many accomplishments, awards, and business successes; but also because in 1997 Gene helped start the Georgia Collision Industry Association that has helped local, regional and national repairers as well. From the beginning of his career he has held a passion for our industry. For Gene, it has never been enough to turn out high quality repairs in his facilities. He has always believed that anything he can do to improve the reputation and respect of the collision repair industry at large would not only make his business model sustainable but would assist his many friends, peers, and yes, even competitors provide safer and more reliable repairs for the consumer. In the end, it has always been about ensuring that friends and families can feel confident that their vehicle was repaired to pre-accident condition and by a true collision repair professional. Gene knows that collision professionals working together is the only way to make improvements in and to better our industry.
The following is only a sampling of the many accolades and accomplishments during Gene's long career in the collision repair industry.
1996, received the SCRS"Green Shop" Award for his efforts to make his Sports and Imports No. 2 an environmentally sound business.
1998, inducted into the Hall of Eagles, the industry's equivalent to the Hall of Fame.
1998, received the Body Shop Video Magazine"Collision Business of the Year" award in the multiple location division.
1999, received the SCRS"Industry Achievement Award" for his efforts to have manufacturers and vendors redirect funds traditionally used for big industry parties to non-profit organizations that serve the industry.
1999, received the"Innovator of the Year Award."
2000-01, Chairman of the Society of Collision Repair Specialists (SCRS).
2003-04, Chairman of I-Car.
I-CAR: Board Member of the I-Car Education Foundation, I-Car Gold Class Steering Committee, and the I-Car Board of Directors.
CIC: Active participant, and past Chairman of the Environmental Committee.
Hamilton is an industry innovator and owns two businesses: Sports and Imports Collision-Chamblee, GA and Sports & Imports Collision-Gwinnett, GA. These repair centers are among the finest automotive-related enterprises in the nation.

21st Century Insurance Sued Again by Florida Repairer for Short-Pay's
EddieQuintela, Owner and President of Collision Concepts of Delray Beach, FL has once again found it necessary to file a lawsuit against 21st Century Insurance on behalf of his customer who made a claim under their policy with the carrier.
In 2012, Eddie Quintela, on behalf of his company's customers, filed three separate lawsuits against 21st Century of which the insurer agreed to pay before the trial dates. In addition to the disputed amounts, the insurer paid all of Eddie's legal fees and costs.
In spite of recent claims whereas the insurer has provided full payments, as of late, 21st Century claims representatives have elected to once again deny payments for the repairer's posted labor rates, processes and procedures as deemed to be reasonable and necessary to properly restore their customer's vehicle. As Such, Quintela, on behalf of and with the full support of his customer, has found it necessary to once again file a lawsuit against the insurer on his customer's behalf for such denials.
"As in the past with this company", states Eddie,"they pay us only after we file suit but before they go before a judge and/or jury. Thereafter they pay in full for every needed material, process and rates for a while… then abruptly change back to their old ways. I'm puzzled; as I am confident their company share-holders would be as well, since the insurer has often paid 20 times the amounts in dispute, often paying upwards of $2,500.00 in legal fees and costs for a dispute that may be under $100.00!" "I don't care" said Eddie Quintela;"it would be much easier for their policyholder if they just paid what they owe without the need for litigation, but when they don't, I'll be helping my customer to have their 'day in court'; As I see it, they [insurers] can either pay fairly now…or pay much more later! "It doesn't make a lot of sense and even makes less"cents"says Quintela.
Allstate Concedes to Gunder's Labor Rates to Settle Pending Lawsuits;
Allstate provides full payment to Gunder's to settle twelve pending lawsuits for short-pays on labor rate differences plus attorney fees and costs.
In June 2013, Allstate claim's management contacted Ray Gunder and requested a meeting to discuss Allstate's interest in bringing closure to the lawsuits of which Ray had filed against the nation's second largest insurer on behalf of a dozen of his customers.
During the meeting with Allstate's Tom Travis and Greg Ashley it was agreed, based upon service and quality, that Gunder's Auto Center was indeed entitled to their labor rate, however, not all repairers deserve the same labor rate, and concern was expressed, that should the word get out, how Allstate would pay Gunder's labor rate without having to do so for other shops. Ray advised he would continue to share his journey with the industry, and regardless, if a settlement with Allstate was reached or litigation continued, others would find out as his intent was that all repairers and their technical staff would be compensated fairly for their efforts, not just Gunder'.
In July Gunder's was advised that Allstate would settle all twelve pending lawsuits by paying the full labor rate and all related attorney fees and costs. Full payments for each were received last week. Allstate makes the 44th insurer to date which has agreed to pay Gunder's full labor rates and materials.
Ray stated:"I am very appreciative of the way this was handled by Allstate. No one wants litigation, however sometimes it is needed to get disputes resolved. My hope is this is that this is truly a new way Allstate does business nationwide and they speak to the entire industry with one voice. Not all shops are the same and as such they deserve to be compensated based upon the quality of their service and offerings."
"We'll be in depositions all week with GEICO representatives and have continued lawsuits with State Farm. Perhaps the nations #2 insurer agreeing to our rates will encourage GEICO and State Farm to pay rates and allowances that are"fair and reasonable"! One can be sure that we'll continue to"pound the rock" until they do!"
NABC Announces New Focus To Help Re-Launch
Operation Comfort's AutoMotivation Program
In an effort to meet the immediate rehabilitative needs of wounded soldiers through Operation Comfort's AutoMotivation program, the National Auto Body Council (NABC) announced it will focus efforts on coordinating collision industry resources to re-launch AutoMotivation as soon as possible.
The AutoMotivation program has been dormant since March 2012 when its previous facility in San Antonio, Texas, was sold. This move prompted the NABC to rally industry support for a capital campaign to purchase a permanent training facility and provide an accredited job-training curriculum for the veterans.
In recent meetings, the Boards of the NAABC and Operation Comfort have jointly determined that collision industry resources would benefit disabled veterans more immediately with a priority focus to fund and support the AutoMotivation program, rather than funding the capital campaign to purchase a permanent facility.
"Our primary concern is for our wounded troops who have been without the valuable occupational therapies and rehabilitative benefits of AutoMotivation this past year," said Chuck Sulkala, NABC C Executive Director."Many disabled veterans will be better served today with industry resources re-focused on helping AutoMotivation become fully operational so they once again have the opportunity to receive the positive therapeutic benefits they deserve."
According to Sulkala, a NABC committee e will be appointed to help its members and others in the collision industry that wish to support disabled veterans through the AutoMotivation program. Committee efforts will help promote awareness for AutoMotivation as well as help procure equipment, training or financial support to meet program needs.
Funds raised to date from the industry-supported Operation Comfort Capital Campaign will be used to provide an immediate space to house the e program or kept in reserve for future use towards a permanent facility. Efforts to identify leased or donated space are underway by Operation Comfort board members.
"Whether it is simply changing a tire or working on restoring a complete vehicle, these activities are important first steps in the recovery process for many participants in AutoMotivation," said Janis Roznowski, Executive Director of Operation Comfort."We are extremely grateful to the many individuals and companies in the collision industry whose generous contributions enable us to continue supporting our wounded soldiers through AutoMotivation."
For more information on how to support Operation Comfort's AutoMotivation program, contact Chuck Sulkala at chuck@autobodycouncil.org.
About Operation Comfort AutoMotivation program:
Operation Comfort is a nonprofit organization founded in 2004 to serve wounded Service Members coming in from Iraq and Afghanistan. The focus has been on teaching skills in automotive body and engine repair through their AutoMotivation program, rehabilitative adaptive sport programs, and family financial assistance. For more information please visit www.operationcomfort.org, Operation Comfort's Facebook page or call 210-826-0500.
About the National Auto Body Council:
The National Auto Body Council is a non-profit organization dedicated to enhancing the image of the collision industry. Our ongoing and continued success is a direct result of the efforts and support of our sponsoring companies and membership. Please contact the National Auto Body Council directly for membership information. Call 1-888-667-7433 or go to www.autobodycouncil.org.
North Carolina Body Shop Wins Short-Pay Arbitration Against Nationwide Insurane
Michael Bradshaw, VP of Operations of Hickory North Carolina's K&M Collision was awarded claimed short-pays in a court ordered Arbitration. The binding Arbitration was the result of Bradshaw filing a lawsuit on behalf K&M Collision's customer against Nationwide Insurance for the insurer's underpayments of what was determined to be reasonable and necessary repair costs. In North Carolina every lawsuit files goes to binding arbitration and only after same can either party then seek a trial if so inclined.
The insurer's short-pays included: labor rates ($48 Body & Refinish, $80 Mechanical and $65 Frame), procedures (i.e. sand and buff, final detail, road test, color tint and collision access time), invoiced paint & materials, sublet markup, fixture usage and a $250 Damage Analysis fee which included a comprehensive part by part inspection of all components including: exterior panels, inner structure, mechanical components and SRS and seat belt systems. The award also included storage charges at a rate of $50 per day for the total amount of $2,506.98 plus accrued interest until the insurer's full payment is made.
"I'm glad the courts recognized whom the repair experts were." says Bradshaw."From the beginning I was very confident we would succeed through our legal system in proving all our charges to be both reasonable and necessary. For any insurer to expect all shops to operate by the same rates, procedures and charges regardless of training, manufacturer certifications, equipment and facilities is ludicrous. The fact is we have made a commitment to repairing vehicles properly, adhering strictly to all manufacturer repair methods and guidelines and what we're consistently finding with some insurers is they care very little about manufacturer certifications and proper repairs and only about bottom line cost and the cheapest repairs possible. My Father (CEO) and I decided if we were going to stay in business and continue to repair vehicles properly we could no longer accept insurer dictated repair costs. We found that short-pay litigation was necessary to stop insurer underpayments and provide our customers with the factory certified repairs their policy affords them."Bradshaw credited assistance and advice from Erica Eversman, Ray Gunder, Barrett Smith and many other industry experts as well as his legal team of Jason A. Orndoff and William E. Morgan for his legal victory.
"I hope our actions and results encourage other quality-minded repairers to seek similar actions against the less than ethical insurers. We learned a great deal in this initial case and I have had to embark on two more cases against Nationwide for short-pays in the amounts of $5,663.24 and $10,135.52. I'm confident we will prevail as I know we are in the right. I know such actions are necessary to stop such behavior and to best serve our community members, our employees and our company," Bradshaw said. "We'll continue to share our efforts with others so they may know that they no longer have to accept insurer dictation of repairs, rates, materials and charges."
Maryland Repairer Wins Short-Pay Lawsuit Against GEICO

Judge awards Mark's Body Shop of Baltimore, Maryland full damages and court costs for insurer's short-pay to their customer.
Mark Schaech, co-owner of Mark's Body shop of Baltimore Maryland filed a lawsuit against GEICO for a short-pay of $392.95 in repair costs of which the insurer refused to provide on behalf of their policyholder. The underpayments included: degreasing vehicle prior to repair, feather-prime and block repaired panels, clean vehicle for deliver, clear OBD fault codes, reset electronics (recorded settings), mask for primer, and overhaul door handle for its refinishing.
Upon learning of the court's judgment in his favor Mark stated:"We offer exceptional quality and service to our customers and to continue to do so without being properly compensated is simply unreasonable and unsustainable. While my father (partner) and I would rather avoid having to take such legal actions, something had to be done as the insurer's efforts to underpay our customers continued to increase. I felt like that guy on the movie Network where he stuck his head out the window and yelled:"I'm mad as hell and I'm not taking it anymore!"
"While Maryland does not allow the recovery of legal fees to the prevailing parties in such issues, we couldn't allow that to be a deterrent in our being able to properly serve our customers and our employees. Insurers have continued cutting their costs while our costs for labor, materials and overhead have steadily increased. The only way we could survive was to either concede to the underpayments and cut our quality of materials and labor... or push back. We found short-pay litigation necessary to stop the insurer's practice of underpaying our customers and to enable us to provide the quality repairs that earn our customer's (and their referrals) for life.
In April 2012, I had the opportunity to attend a free legal seminar in Florida where I met Barrett Smith of Auto Damage Experts (ADE) and his coaching client Ray Gunder and Ray's attorney, Brent Geohagan. This was a turning point for us. To hear Ray talk about how he knew that if he hadn't done something he would be out of business struck a chord in me and I knew then that I too needed to do something or we'd lose our business. Ray gave much credit to his success in having a great support team in Barrett as his consultant and Brent as his legal counsel."
"I met with Barrett and ask if he'd help us and he agreed, and we haven't looked back since. We made the annual consulting fees back within the first few months and continue to increase our profits while maintaining high quality for our customers. We have a ways to go to achieve our goals but we are on the right track and once again optimistic about our company's future."
State Farm Ordered to Pay Gunder's Legal Fees

Lakeland, Fl. - A judge has ruled in a fee dispute that State Farm is to provide payment to Gunder's $76,157.00 for Legal Fees relative to one of two initial lawsuits Ray Gunder levied against the nation's largest auto insurer for short-pays on behalf of two of Gunder's customers. Ray and his attorney, Brent Geohagan have reached a tentative out of court agreement in the other case for the insurer to pay legal fees in the amount of $7,250.00 plus accrued interest which brings the total amount to be paid by State Farm to an estimated $83,400.00 in these two matters alone. Efforts were initially made by the insurer to condition a non-disclosure agreement in exchange for payment but Ray refused and the court's award was not contingent upon same.
"The extensive fees were incurred due to the substantial time our attorney invested to research and combat State Farm's initial efforts to defend against the short-pay lawsuits and their efforts to discourage and stop me." said Ray Gunder. We didn't do it alone, besides having a great legal counsel; we had the ongoing financial and moral support of many repairers and friends across the country. We've hung in there because we knew we were right and to blaze a trail up that mountain so other repairers wouldn't have to make the significant investment we did. The path is now clear and easy to navigate. The heavy lifting is done and many other repairers are now following our lead and even more are looking into doing the same. I'm very proud of climbing that mountain and the view from where we sit is awesome! We're currently receiving full payment for our labor rates, procedures and materials from nearly 50 insurers and we will be adding more to that list in the weeks and months ahead. We have more lawsuits against State Farm in the courts currently, including one against an appraiser individually, and we'll continue to share our journey with the industry as we continue Pounding the Rock!"
SCRS Interviews UK Repair Associations Regarding Standards
For the past several years, there has been a significant amount of discussion amongst industry organizations in the United States about"standards" in the collision repair industry.
Read More
2013 Georgia Collision Industry
Labor Rate Survey Results
The GCIA has conducted this survey for Seven (7) consecutive years. No other industry association in the U.S. has collected this amount of accurate data on collision materials and labor rates. This year, 305 shops participated across the state of Georgia and the results clearly demonstrate the actual prevailing rate in the Georgia marketplace.
Bristol West Sued By Florida Repairer for Short-Pays
Eddie Quintela, Owner and operator of Collision Concepts of Delray Beach, FL has levied a lawsuit against Bristol West Insurance Company on behalf of his customer whose vehicle was damaged due to the negligence of a Bristol West policy holder Read More
Insurer Mandated Parts Programs Still Fail to Demonstrate Benefit to Repairers
It has been over one year since State Farm began mandating the use of PartsTrader for parts procurement in certain cities in the United States. Despite public criticism and concern expressed by multiple affected industry segments, neither State Farm nor PartsTrader has provided any well-constructed explanation of how the program provides any substantial benefit to those being required to utilize it, other than to comply with the mandated programs. Read More